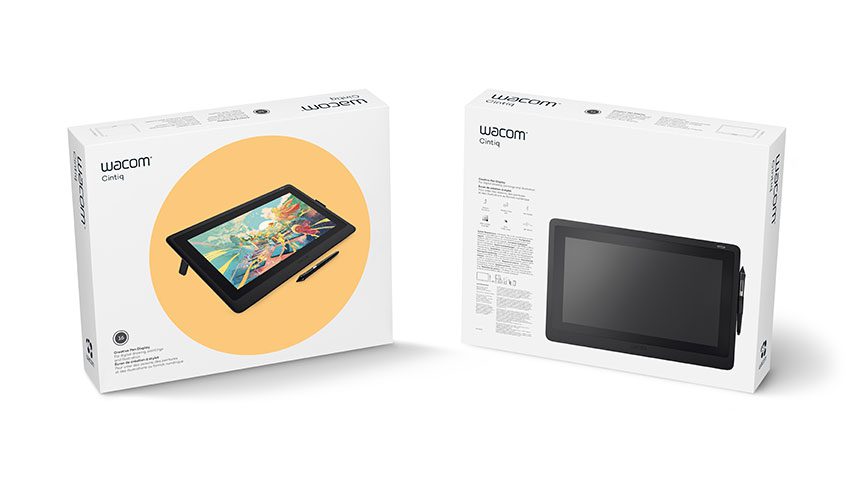 Au CES de Las Vegas, Wacom a présenté un nouveau type de Wacom Cintiq. Il y avait la gamme Wacom Cintiq Pro avec les tailles 13, 16, 24 et 32 pouces. Maintenant Wacom propose un  nouveau modèle (est ce une future nouvelle gamme ?): le Wacom Cintiq de taille 16 pouces. Ce modèle est l'équivalent d'une Wacom Intuos par rapport au Wacom Intuos pro en étant dans la gamme des tablettes écran.
Cette équivalence se caractérise parfaitement par son form factor car ce modèle de Cintiq copie le design de la Wacom Intuos, notamment dans la sangle qui supporte le stylet. Si la technologie du stylet est celle d'un Wacom Cintiq avec le Pro Pen 2 et ses 8192 niveaux de pression, il faut voir les restrictions du côté de l'écran ( Full HD, 72% Adobe RGB, poids plus lourd) si l'on compare ce Wacom Cintiq au modèle équivalent Pro, le Wacom Cintiq Pro 16 ( 4K, +90% Adobe RGB, plus léger). Vous ajoutez à cela l'absence d'accessoire comme le réceptacle du stylet, Wacom a certainement réduit les coûts dans la fabrication. On verra cette nouvelle tablette certainement en France au FIBD d'Angoulême 2019 fin janvier pour juger de la qualité de la fabrication. Grand absent également de ce modèle : c'est le multitouch, d'où l'appellation DTK 1660 (DTH, c'est avec le touch).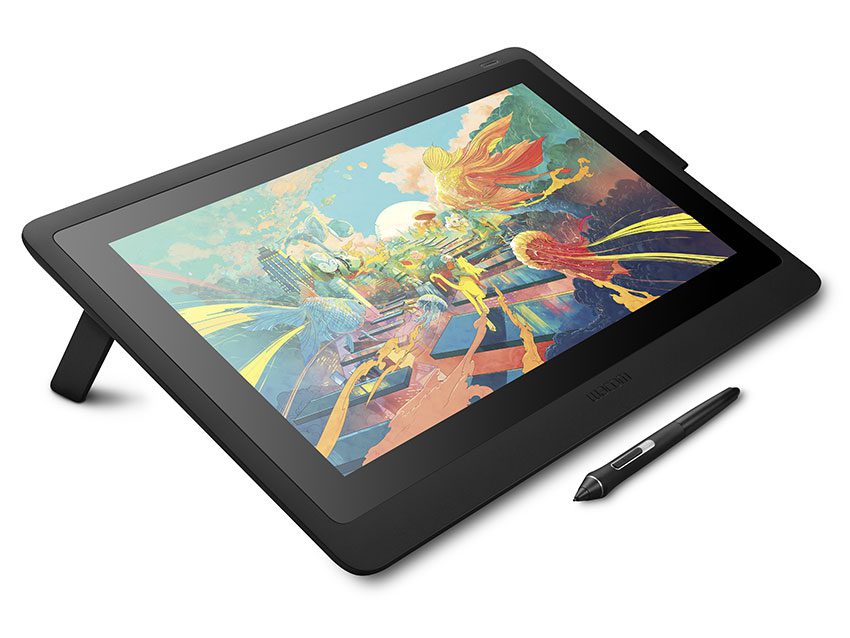 Bien sûr, le gros plus de cette tablette Wacom est le prix. 600€.  Vous avez du Wacom, du Cintiq, du 16 pouces et du Pro Pen 2  à 600€ (605€ plus exactement). On comprend facilement qu'il s'agit d'un modèle pour éliminer la concurrence de toutes les tablettes chinoises à bas prix, au driver instable et au écran de même qualité. Le principal frein pour un achat d'une tablette Wacom est le prix. Là, Wacom propose pour la 1er fois un modèle avec écran en entrée de gamme alors qu'il s'agissait d'un type de tablette réservé uniquemeent au Pro.
On passe aux photoooos.
Avec ses bords arrondis, on pense aux dernières Bamboo de jadis. On pense aussi à la sangle pour maintenir le stylet. Les pieds sont ceux des derniers Wacom Cintiq Pro. L'arrière de ce Cintiq fait penser à un mix de Wacom Intuos et de Wacom Cintiq pro.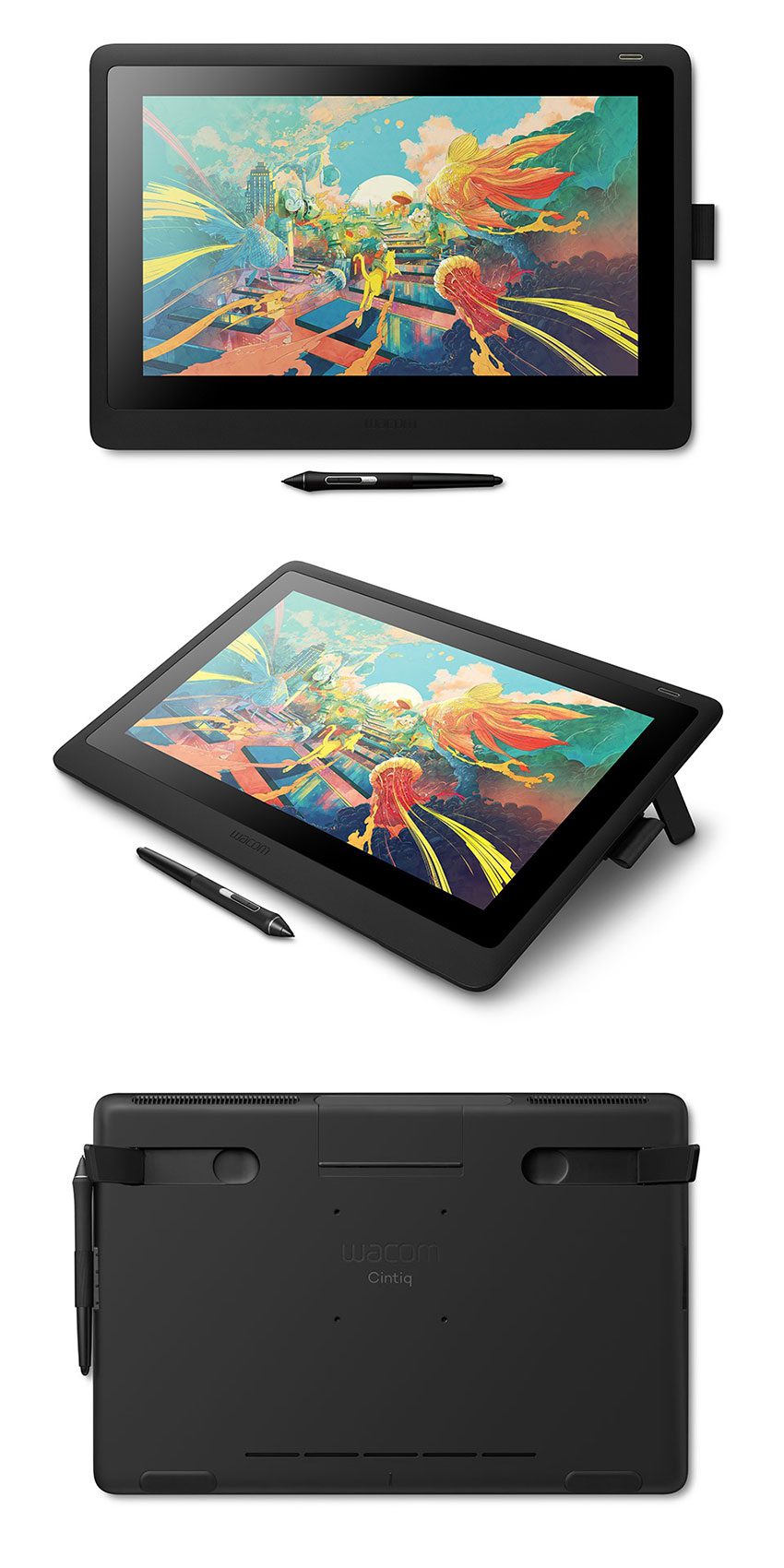 La sangle multifonction et son accroche sert de réceptacle aux mines (3 certainement) et de mécanique d'extrusion. On retrouve les idées de la Wacom Intuos.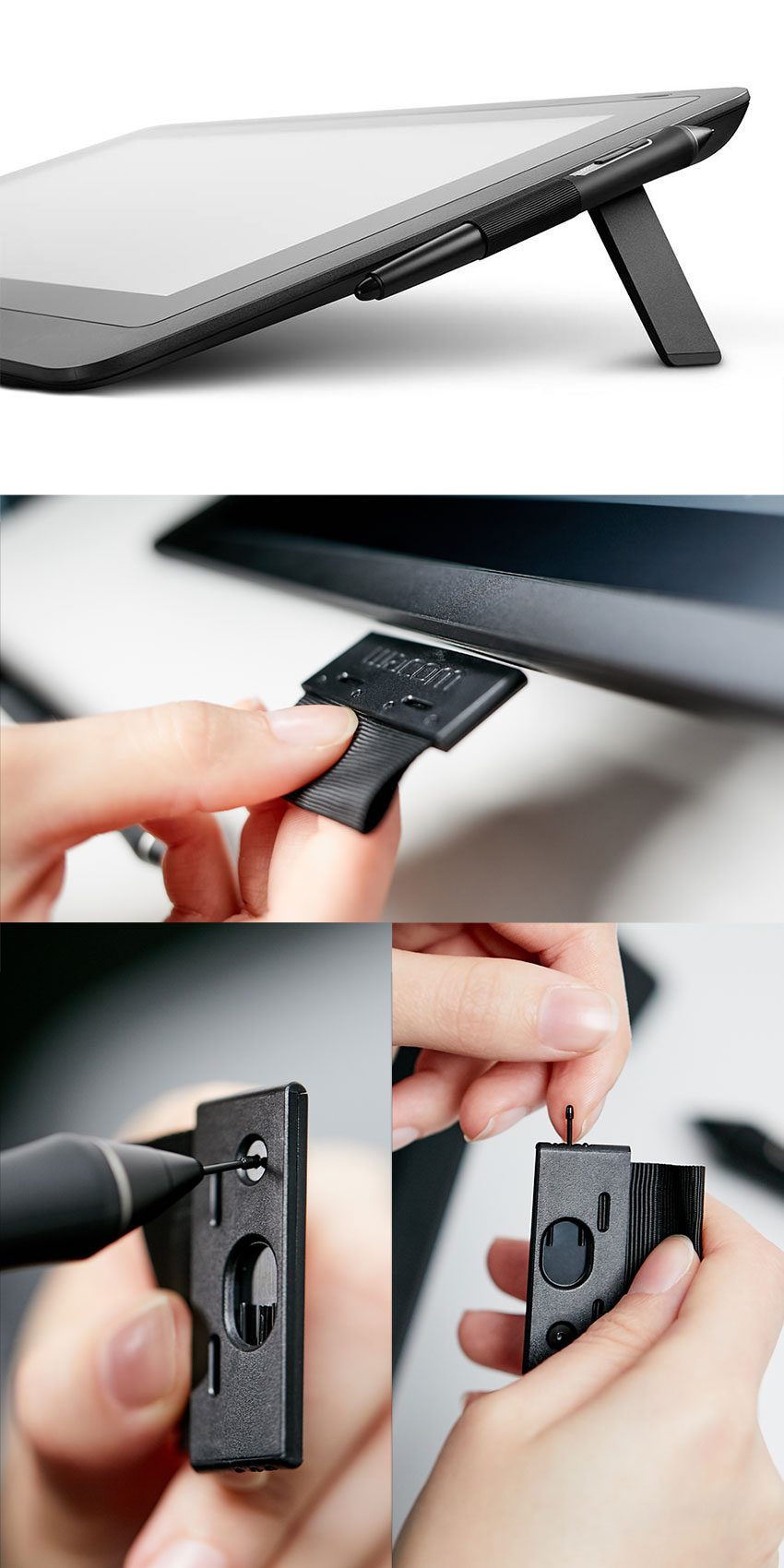 Les câbles. 3-en-1, le retour. HDMI-USB-Secteur vers une connexion unique.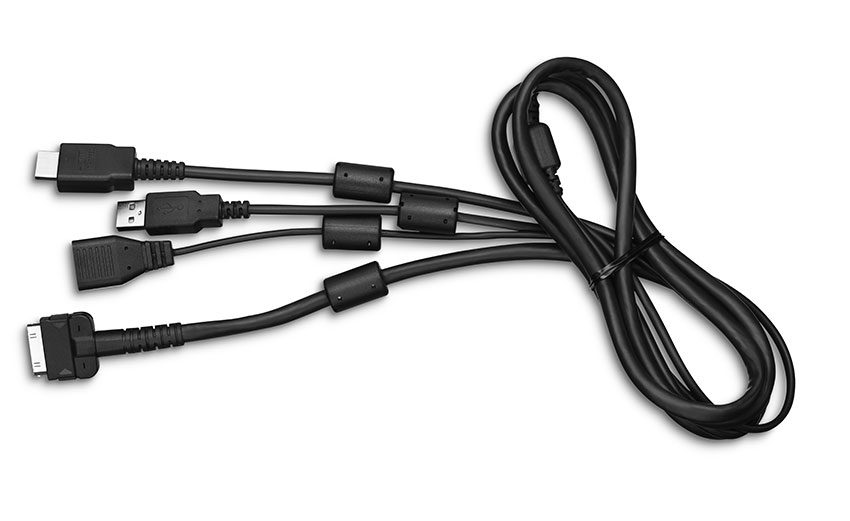 Voici la  connexion…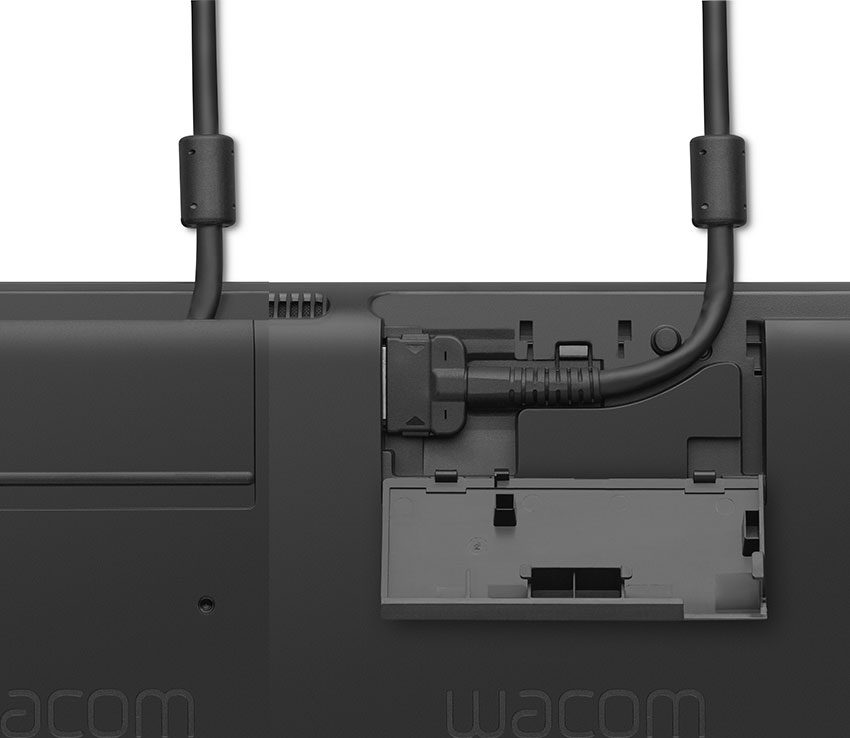 Le socle en option.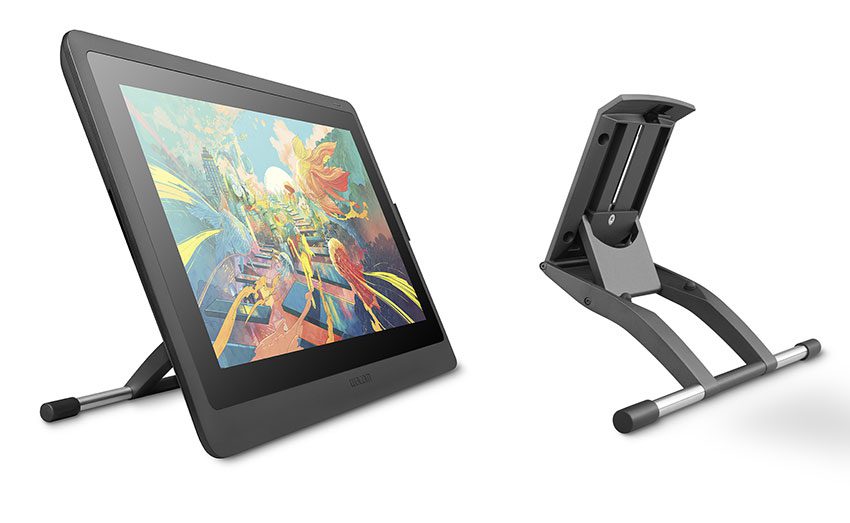 Les caractéristiques techniques.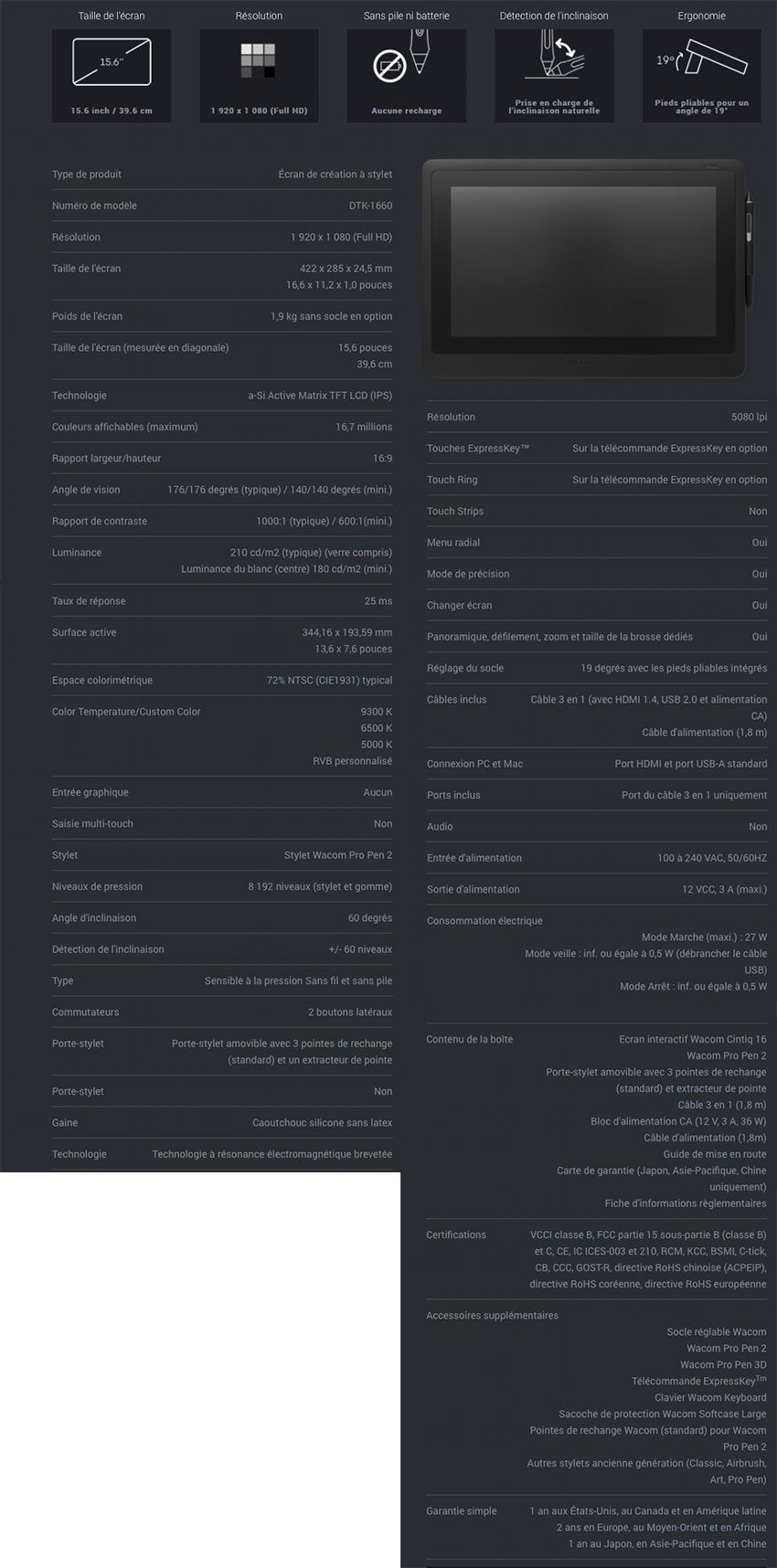 Pour terminer, la Press Releaaaaase. In english.
Wacom Launches New Cintiq for Emerging Professionals, Students and Enthusiasts
New entry level class of creative pen display with an optimized feature set for a growing group of young art and design students
Las Vegas, Nev. – 8 January 2019 – Today at the Consumer Electronics Show, Wacom announced a new class of creative pen display. The Wacom Cintiq 16 is a fantastic tool for digital sketching, illustration and technical drawing and incorporates Wacom's 35 years of experience and know-how in building products that make creativity more natural and productive. The new Cintiq is specifically designed for young creative professionals, creative enthusiasts, art students and passionate hobbyists who want the trusted and reliable Wacom experience but may not require every advanced feature found in the Cintiq Pro product line. The Cintiq also provides an attractive option for existing creative pen tablet users looking to upgrade, or emerging creatives who wish to try the Wacom pen on screen experience for the first time. The new model comes at a recommended retail price of 599,90 EUR or 529,99 GBP. The adjustable stand is optional and costs 79,90 EUR or 69,99 GBP. Products will be available at the Wacom E-Store and select retailers later this month.
*All prices in EUR and GBP are recommended retail prices incl. VAT.
"Wacom's digital pen and display products have become indispensable to the creative professional. Now we bring that same pen technology, build quality and know-how to those who previously have wanted it, but due to the emerging stage in their careers have perhaps not been able to afford Wacom's full range of professional features," said Faik Karaoglu, Executive Vice President of Wacom's Creative Business Unit. "We think this is the perfect solution for budding creatives but also students, technical drawers in architecture, planning, industrial design or engineering, and even established creative professionals who want a second device for their home office or studio."
The Cintiq 16 comes with Wacom's Pro Pen 2 technology, offering professional grade pen technology for an entry level price. It provides 8,192 levels of pressure sensitivity and tilt response for unparalleled precision and accuracy. Wacom's EMR (Electro Magnetic Resonance) technology does not require a pen battery or recharge, ever. The 1920 x 1080 full HD display offers 72 percent NTSC color, a hardened cover glass with anti-glare treatment and a natural, paper-like feel. The Cintiq 16 includes an attractive but compact design, making it easy to incorporate the Cintiq into a workspace, with a unique 3-in-1 cable connection that offers minimal clutter. The new Cintiq is perfect for users looking to customize their space with advanced digital pen and display tools.
With the introduction of the Cintiq in 2001, Wacom was the first company to deliver a creative pen display. These are used for virtually all animated movie creation, game development and industrial design. Using a Wacom Cintiq or Cintiq Pro emulates working with traditional media like no other product. It's natural and intuitive and it speeds production and enables immediate collaboration. Perfect for illustration, graphic design, photo retouching and layout design, the Cintiq 16 is relevant for both creative enthusiasts and emerging professionals. Compatible with both PC and Mac, the Cintiq line works with hundreds of pressure-sensitive apps from companies such as Adobe, Autodesk, Pixologic, Celsys, Corel and The Foundry.

Catégories: Cintiq, Wacom

.:. .:. .:. .:. .:. .:. .:.