Plusieurs infos sur Wacom.
[1] C'est officiel, semble t'il. Le Wacom Cintiq pro 32 est définitivement là avec son bras, le Wacom Flex Arm ( voir le twitter de Wacom et ce lien). Le Cintiq était sur le store; il avait été déjà annoncé. Mais on ne le voyait pas trop et on ne savait plus trop. Mais là, c'est bon. On peut écrire que le lancement de ce Wacom Cintiq pro a été catastrophique, mais on peut positiver, à savoir si sa sortie a été reportée, c'est que tous les bugs ont été éliminés et que cette machine devrait être parfaitement clean. Vu le prix, vous me direz, c'est la moindre des choses…
Düsseldorf, Germany – 15 November 2018 – Today Wacom announced the availability of the new Wacom Cintiq Pro 32, developed to meet the increasing demands of creative professionals for a larger, high-definition pen display and an immersive, clutter free workspace. The new flagship marks an important milestone in the complete renewal of Wacom's high-definition pen displays. It joins the previously introduced Cintiq Pro 13, 16 and 24-inch models to form a comprehensive range of products to meet the professional demands across a big spectrum of applications. Designed to inspire and with the users in mind, the Wacom Cintiq Pro 32 already received this year's prestigious Red Dot Award for product design. (…)
The brilliant 4k display, 98% Adobe RGB colour accuracy and a billion colours deliver a true-to-life visual experience. The pen on screen experience was also improved. The combination of the new Pro Pen 2 technology (improved pressure sensitivity featuring 8,192 levels), the etched glass surface, the reduction in parallax through optical bonding and the close to zero latency, provide artists with precise control and a more natural feeling pen on screen experience. Together with the optional Ergo Stand, which is fully adjustable and rotatable, the Cintiq Pro 32 offers comfort and flexibility even during long working hours.
Wacom Flex Arm
For even more flexibility and ease of use, Wacom teamed with Ergotron Inc. the leading manufacturer of ergonomic monitor arms, to provide an arm that meets the unique needs of artists and designers who use the large format Cintiq Pro pen displays. Mounted on the edge of the desk, the Wacom Flex Arm brings comfort and flexibility and allows professionals to easily incline, pan and rotate their Cintiq Pro 24 or 32. As a free-floating monitor it has a reach of 30" across the desk, but is still sturdy enough to support pressure while using. The integrated cable management allows for a clutter free workspace.
En photo, le Wacom Flex Arm, cela donne ça. Gros bras.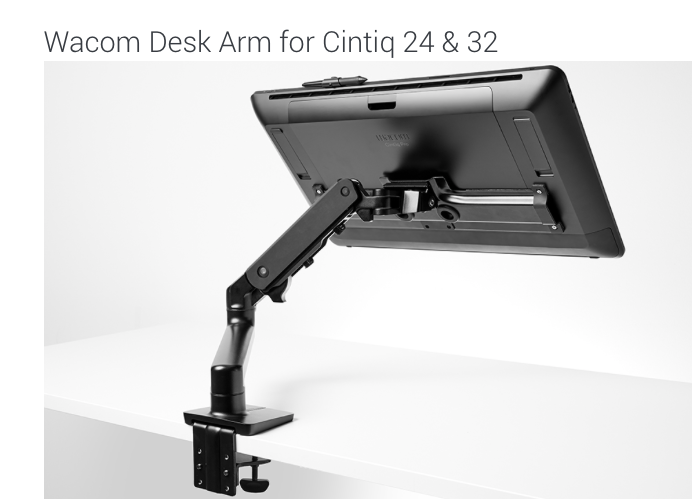 [2] Fin novembre, Wacom organise sa grosse manifestions sur le Connected Ink à Tokyo.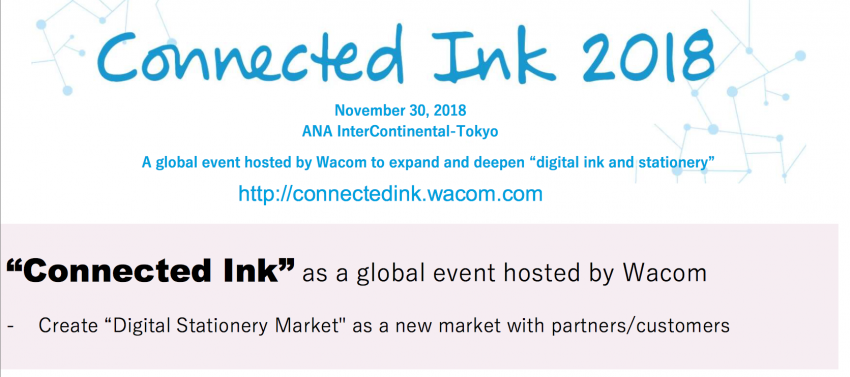 [3] Le petit Prince a constaté que l'action Wacom avait super monté à plus de 600 JPY. Là, cela a baissé vite fait à 551 aujourd'hui.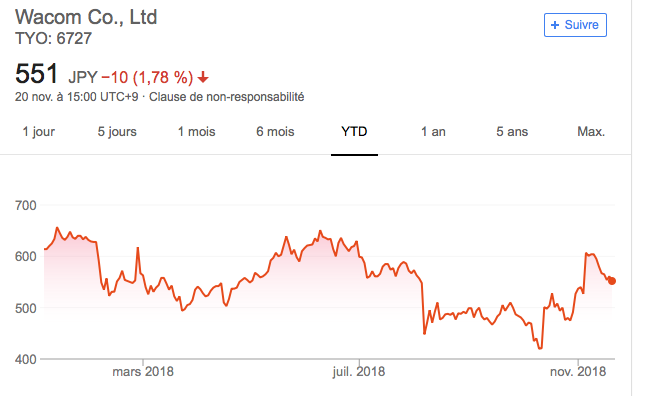 Sinon on vient de voir aussi que l'action AAPL se rapprochait de son niveau du début d'année soit une perte de 50$, sous les 200. Du jamais vu.
[4] On revient à Wacom. Cette montée signifiait qu'un rapport sur le CA était sorti et qu'il était positif. En effet, le PDF est ici. Donc on vous fait un petit résumé avec des captures écran de ce rapport qui est une prévision jusqu'à mars 2019.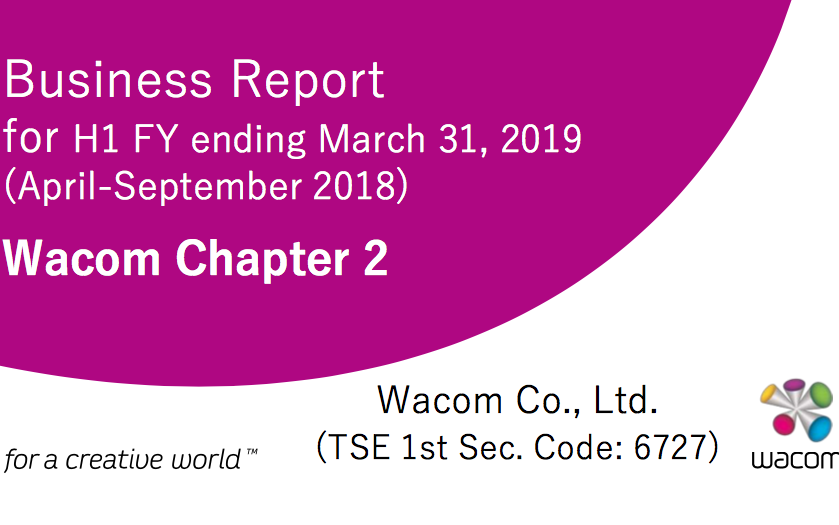 Tout est ok pour ce prochain trimestre. Pratique ces rapports qui vous parlent du futur. Bien sûr, s'il y a une 3eme guerre mondiale, c'est caduque.

Mais les tablettes graphiques, c'est le sujet qui fâche. Tablettes opaques (Intuos/Pro), tablettes écran (Cintiq) et tablettes ordinateur (WMSP), c'est du négatif partout.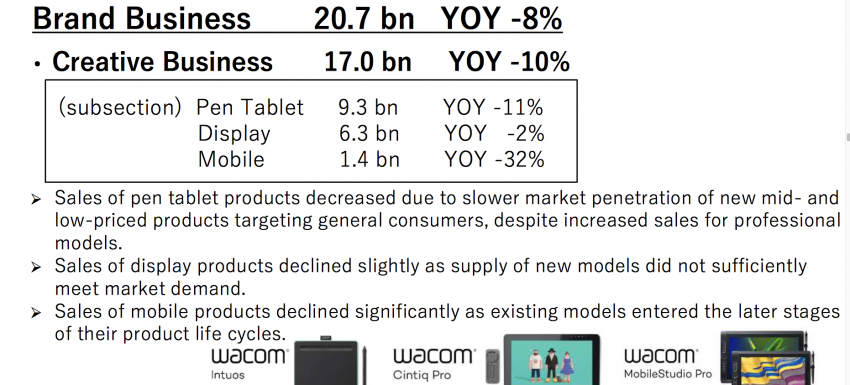 Par contre, tout ce qui est techno, cela fonctionne à fond en ce moment et cela sera toujours le cas en 2019. On en déduit que les produits Samsung avec le S-Pen (fourni par Wacom) ont  du cartonner. + 80%!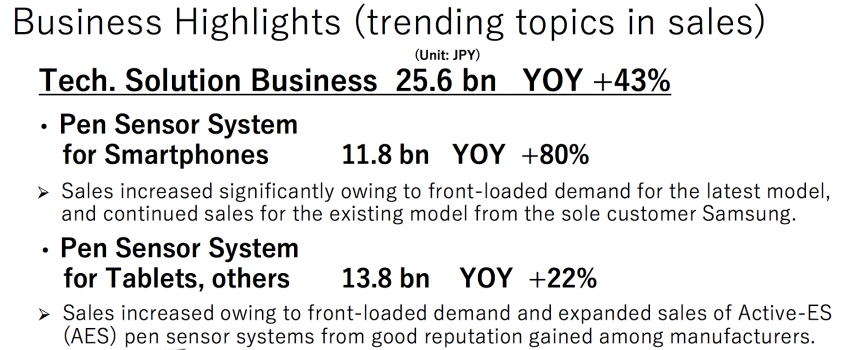 On termine par les prévisions pour 2019. Du positif. « La vie est belle », comme disent les français. Heu, mais nous sommes français, suis-je bête. Et champion du monde!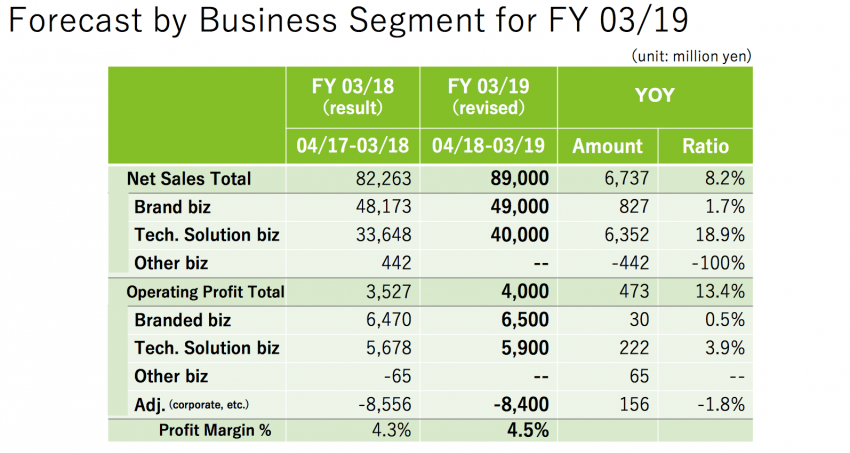 Se terminent ces infos en vrac sur Wacom

Catégories: Action Wacom, Cintiq pro, Wacom

.:. .:. .:. .:. .:. .:. .:.