Peut-être que vous ne saviez pas, mais Wacom proposait un service de sauvegarde sur le Cloud (en fait si vous saviez, si vous aviez lu notre partie Paramètrage).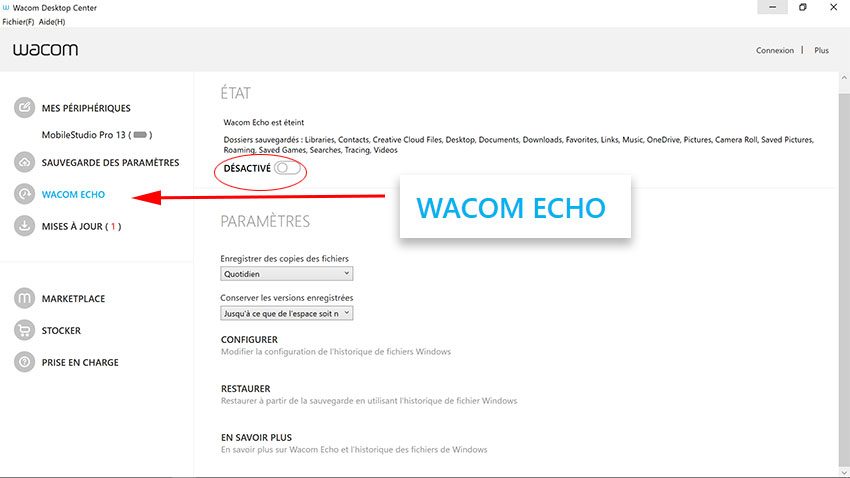 Dans un premier temps, cela ne fonctionnait qu'avec des fichers image, puis cela s'est élargit à toute sorte de fichiers. Ce service était proposé aux possesseurs de Pen Computer (Cintiq Companion 2 à Wacom MobileStudio Pro ) et s'affichait dans le Wacom Desktop Center, avec tout pour le configurer.
On est franc. On avait testé sans être des utilisateur assidus de  ce service, qui – on le rappelle – était gratuit pour les propriétaires de Pen computer.
Wacom a décidé de mettre fin à cela. La date butoir est le 13 septembre 2018. Un mail chargé de mélancolie  et d'espoir a été envoyé. Notre grande gratitude envers les Wacom users (et notamment les possesseurs de Graphire qui n'ont pas pu le recevoir), nous incite à vous faire part de ce message déchirant.
Dear Wacom Echo User,
On September 13, 2018, we'll be discontinuing our Wacom Echo backup service. We regularly review our products to assess which ones people value most and we've decided to close down Wacom Echo. Instead, we're looking forward to sharing new products, innovations and an even better Wacom experience.
Because we'll no longer provide access to any user data backed up with Wacom Echo, it's important for you to find an alternate backup solution before September 13. In the meantime, you can still use Wacom Echo to backup and restore your data, using your Wacom ID on your Wacom MobileStudio Pro and Wacom Cintiq Pro.
We understand that some of you might be disappointed – and we'd like to take this opportunity to thank you for your support so far and apologize for any inconvenience this may cause.
Thank you.
Your Wacom team.
Sniff. RIP Echo. David Bowie est mort. Et maintenant c'est au tour de Wacom Echo. Franchement, la loi des séries…

Catégories: Non classé

.:. .:. .:. .:. .:. .:. .:.